evanell° Smart Radiator Valve Starter Kit Incl. 6 Radiator Buttons










49% sale










Product description

Imagine coming home to a warm and comfortable house, just the way you want it, without wasting unnecessary energy. Introducing the evanell° Smart Radiator Valve, the solution for environmentally conscious consumers who want to make their home more energy-efficient and sustainable.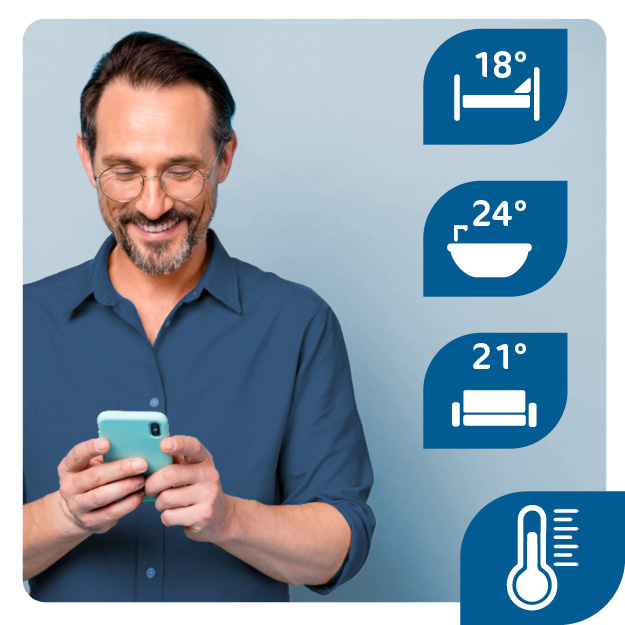 Adapt the heating to your routine with convenient schedules
Set up easy schedules through the user-friendly app and adapt the heating to your lifestyle. The evanell° Smart Radiator Valve ensures your house is warm when you want it to be, and saves energy when you are not at home.
Easily integrate with your smart home systems
The evanell° Smart Radiator Valve seamlessly integrates with Amazon Alexa, Google Assistant, SmartThings, and IFTTT. So effortlessly control the temperature with your voice or through automated routines.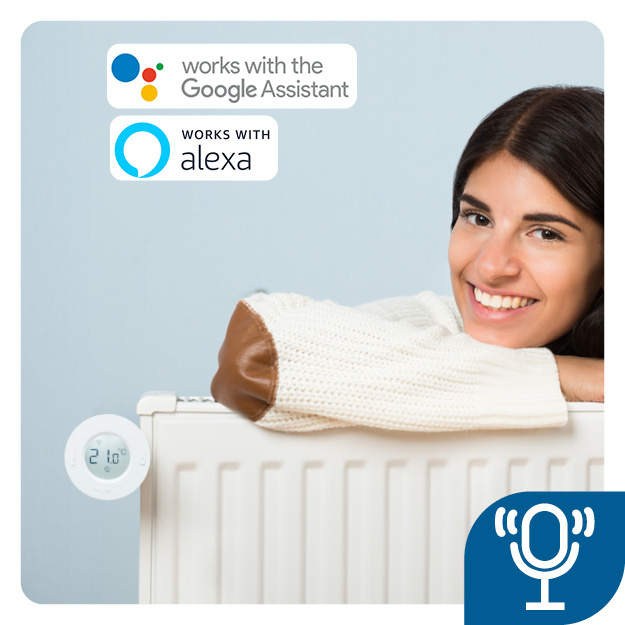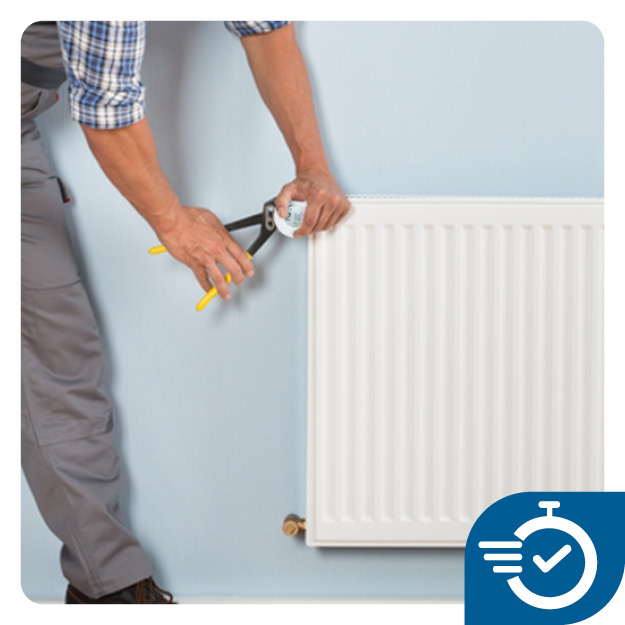 Easy installation
It only takes a few minutes to replace your old radiator valve with our smart radiator valve. It works in most homes with central heating systems and district heating. Technical knowledge is not required.
Enjoy accurate temperature control
Thanks to the advanced temperature control technology of the evanell° Smart Radiator Valve, you will experience a stable and comfortable temperature at home, without unnecessary fluctuations that waste energy.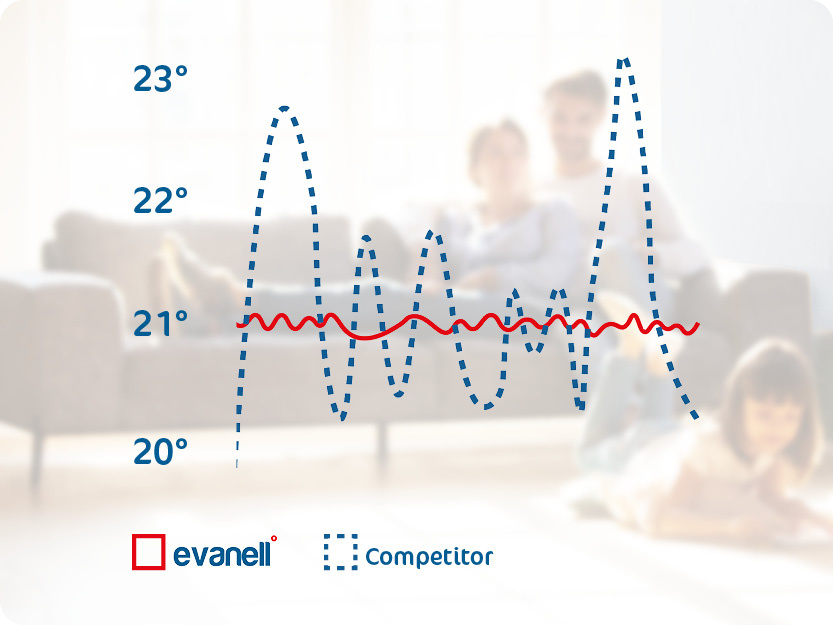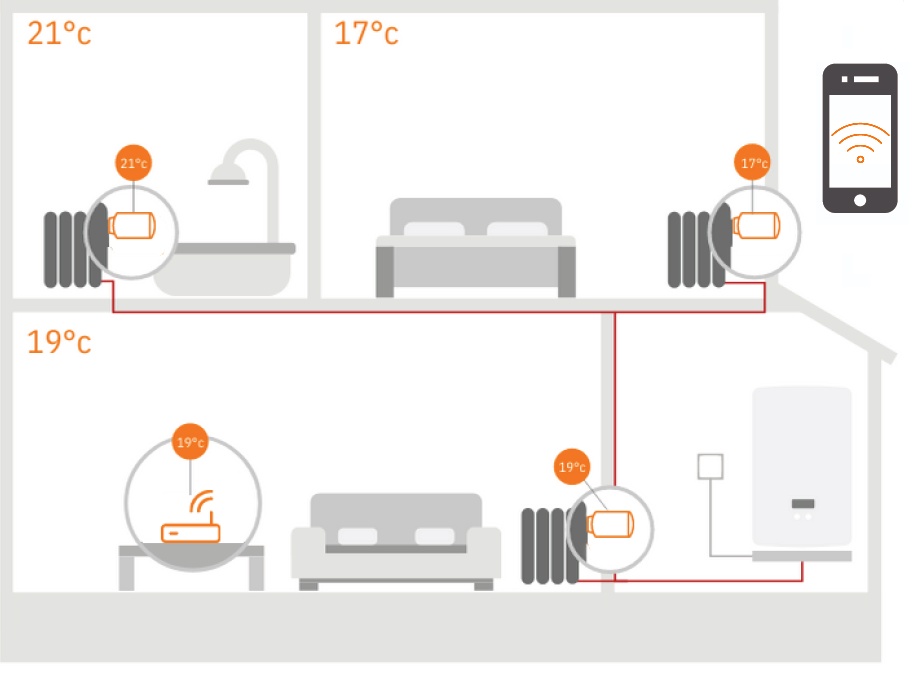 Enjoy a perfect climate, room by room
With the evanell° Smart Radiator Valve, you control the temperature of each room in your house separately. This way, you always create the ideal environment, while saving energy and money by heating unused rooms less.
Weather-dependent adjustments
Make use of smart functions in the app that take into account the outside temperature and automatically adjust your heating accordingly. This way, you always enjoy a comfortable indoor climate, regardless of the weather outside.
Geofencing: your heating knows when you are at home
With geofencing, the evanell° Smart Radiator Valve automatically adjusts the temperature based on your location. Your house is always warm and inviting when you come home, and energy-efficient when you are away.
Open Window Detection prevents energy waste
The smart Open Window Detection of the evanell° Smart Radiator Valve ensures that the heating automatically turns off when a window is open. This way, you prevent unnecessary energy waste.
Share control with your housemates
Easily add housemates to the app so everyone can adjust the temperature as desired.
Energy Savings - Guaranteed
Save up to 31% on your heating bill. Evanell pays for itself within the first year and offers a 12-month energy savings guarantee.
Join the growing community of satisfied and environmentally conscious users and experience firsthand how the Evanell° Smart Radiator Valve makes your life easier, more sustainable, and cost-effective.
[powr-faq id="3ba5875b_1698855389"]
Product specifications
EAN

8720254861005

Suitable for operating system

Android | iOS | Windows

Smart Home Platform

Alexa Amazon | Google Assistant | IFTTT | Smart Life | SmartThings | Tuya Smart

Control

LED display manually via buttons, via the app or via voice control

Radiator valve connection

Click system

Connection size for click system

Else

Number of pieces in packaging

2-6 piece(s)

Thread diameter

28 mm

Radiator valve functions

Geofencing | Child protection | Open window detection | Programmable | Wifi | Calibration (temperature correction) via App

Suitable for radiator brand

Caleffi | Comap | Danfoss | Giacomini | Heimeier | Herz | Honeywell | Vaillant | Oventrop

Includes adapter(s)

Yes

Color

White

Product height

8.2 cm

Radiator valve type

Smart thermostat valve

Thermostat type

Smart Radiator Valve

Sensor type

Built-in sensor

External features of the radiator valve

With digital display
Show more
Show less